It's Friday.
And I'm going to sunny Florida today for a few days.
With a friend.
In a car.
Just the two of us.
Need I say more?
On to the questions: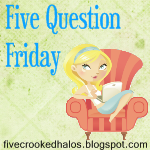 1.

What is one grammar issue you cannot let go without correction?
there, their, they're seriously...oh, and 's and s'
2.
What's your favorite thing about fall?
Brachs Candy Corn mixed with salted peanuts.
3.
What's your favorite dish to take to a potluck?
Dessert...probably *Yummy Bars*....everyone loves them!
4.
When do you start Christmas (Holiday) shopping?
The first week in November. Give me a list and some $ and I can knock it out ! I actually order a lot of the gifts I give and the children are so easy....because they are still little and like everything!
5.
Did you move homes a lot growing up?
Actually, no. I only lived in three homes. The last one from age nine until I married. So, I feel like I lived in the same home all my life. That's a good feeling.