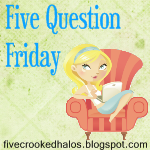 1. How long did it take for you to find your
wedding
dress? (Wedding dress pics anyone?)
My mom made my wedding dress! She actually made it for my sister, and two years later I wore it. I was engaged in August and married in September!! (And nope.......No babies for two years!) Special memories!
Oh, and I know...I look like a baby in my wedding pics!!! :)
2.
Someone in your general vicinity releases NASTY smelling gas. Do you say anything or blow it off?
Say nothing. RUDE.
3. W
hat is the scariest thing that happened to you or scared you recently?
I live in the city...like so close I walk downtown. This morning when I backed out of my driveway in the dark, my headlights shown on a FOX! That's scary to me!
4.
Favorite brand and flavor of ice cream.
At home:
Breyers Mint Chocolate Chip
In an ice cream store:
Hersheys Coconut Almond (Nutty Coconut)
or
Hersheys Black Cherry
5. Are you able to sleep well in hotels?
Yes and no. I have trouble sleeping on the first night away from home. It helps if I remember to take my fan that I am use to sleeping with. I love the noise of a fan. I am not use to sleeping where it is so dark but that's not really a problem for me. I always wonder why people can't sleep if it's not dark....my eyes are closed anyway!! :)
So.....have a great weekend. Is it *fall* where YOU live????????