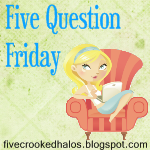 1. What is your favorite fall family tradition?

For years and years....actually, the entire time my children were growing up, we had a bonfire at my mom's house on the weekend closest to Halloween. We roasted hot dogs and marshmallows over a fire outdoors....and all the family came. I hope my children have good memories of that time every fall. We have since stopped that tradition at my mom's house but I think next year I will begin that tradition at my own home!

2. If money weren't an issue, how many kids would you have?
Five.
3. If you were to get a tattoo, what would it be and where would you put it?
Hmmm...never given it much thought. If I were going to get a tattoo, I guess I would make it visible....what's the point in having one if you are going to hide it? So, I guess the place would be next to my ankle. The tattoo would be Nonny....surprise! BUT, don't look for it...I'm past the tattoo days!
4. What condiment is a must in your house?
Good Seasons Italian Salad Dressing. I put it on salads, tomatoes, sandwiches, bowls of veggies...you name it! I keep them in business!
5.
How did your spouse/fiance propose?
At a stoplight. Romantic, huh? He had the ring in a box under his seat and couldn't wait. Oh well, 37 years later I can say it didn't make a difference!!!
Have a great weekend! Tell me, would YOU get a tattoo?