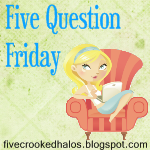 1.

Do you prefer to drive to your vacation spot or fly?
Drive.
I will fly...i do fly.
But, confession here, I am SOOO claustrophobic!!!
So, most trips are road trips.
2.
If you could live any where in the world, where would you go and why?
Anywhere my family is.
3. S
hould grown women wear leggings?
I seriously want to read other people's answers to this question. I never knew people thought this might be inappropriate. That being said, I don't like leggings without a long top..... no matter the age.
4. I
f you could change your name to any other name, would you?
And what would it be?
It would feel weird being someone else.
Hmmm... maybe Berkeley. I love that name!
5.
What magazines do you have subscriptions to?
Our State
Southern Living
Parents