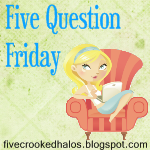 1.
What is one thing you have too many of in your house?
Sample bottles of lotion, shampoo and soap.
Seriously, it's ridiculous!
I save them for guests and the guests don't use them.
2.
Did anything go not quite as planned on your wedding day?
We got married at home in my living room.
Not too much to go wrong there.

3.
What is your favorite summer smoothie recipe?
Bananas, strawberries and yogurt!
4. What is the weather like where you are?
We have had so much rain in NC!
Now the humidity is unreal...but I'll take it!

5. What is your favorite book to read to your kids?
My favorites are The Llama Llama books!
Hubs loves Dr. Seuss
Tell me YOUR answers....especially the answers to #1!