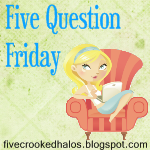 1. W

hat is your next home improvement goal?
It has NEVER been redone and our home is 40 years old!
2.
If you could only read one book for the rest of your life,
what would it be?
(ie Bible, Quran, Torah, etc, etc)...

Redeeming Love by: Francine Rivers
3.
What is on top of your refrigerator?
4. What are your favorite or most used phone apps?
Instagram, Twitter, Facebook. Navigation
5. What's the one thing you hate most about your spouses job?
He runs a propane business.
A lot of people depend on him.
And he handles it like a champ!
Tell me about YOU in comments.