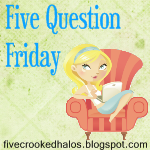 1. I
f you had to give 1 million dollars to just one person (not your spouse), who would it be and why?
One of my children, because I would hope they would dole it out to the people and places I request of them.
2.
What bathroom stall do you typically go to FIRST?
Never the first stall because I feel like it's the one most used.
3.
How do you prefer to shop: In-store or online?
Online...I did ALL my Christmas shopping that way. Did not step foot in a mall!
4.
What's the weather like in your neck of the woods?
I am in North Carolina. We are blessed to have all four seasons. We don't have a whole lot of EXTREME weather. Right now it is hovering around 30 degrees!
5. Do you own a pair of Tom's and what do you think? Overrated, underrated or about right?
I don't own Tom's but lots of kids in the family do. I think they are UGLY but I like the concept of donating a pair of shoes to those in need!